Impingement Belt Tunnel Freezer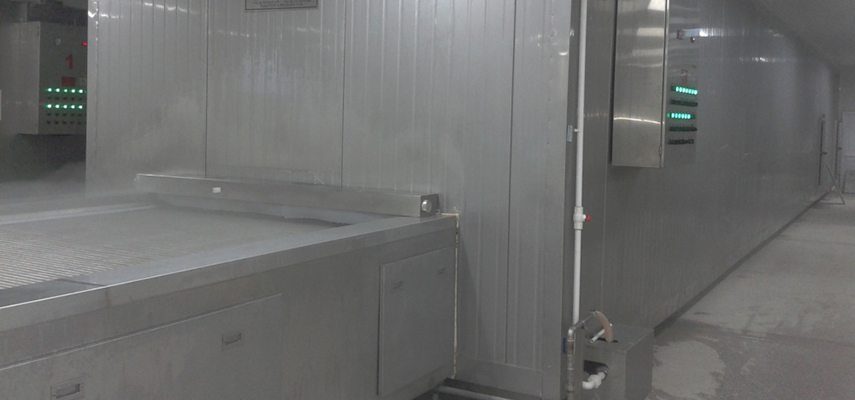 The impingement belt tunnel freezer is primarily used to freeze flat foods, making it a popular choice in the seafood industry to quickly freeze fish fillets, shelled shrimps, squids and more. It is equipped with a highly efficient and hygienic evaporator and uses the latest liquid supply method for a heat exchange efficiency that is 20% higher than the traditional methods. Compared to traditional methods, the food weight loss is lowered by more than 1.5%.
Parameters
| | |
| --- | --- |
| Items | Parameters |
| Type | CWD1200 |
| Layout Dimensions | 27000×3200×3115mm |
| Freezing product | Shrimps |
| Capacity | 1200KG/h |
| Infeed temperature | +25℃ |
| Outfeed temperature | -18℃ |
| Refrigeration consumption | 255KW |
| Refrigerant | R22 |
| Freezing time | 4-40min |
| Infeed conveyor length | 3000mm |
| Belt width | 1500mm |
| Installed power | 84KW |
Notes: These parameters are subject to change based on different products and processes.
Features
The mesh belt features a circular air duct design with a vertical symmetry in order to enhance the heat exchange effect.
The impingement belt tunnel freezer uses an imported cold storage insulated panel production line for panel production, which ensures a high degree of energy efficiency and outstanding reliability and quality.
The tunnel freezer is equipped with an intelligent central control system, automatic detection device and warning lights, which is easy for users to operate and maintain.
Custom Range
We can design and manufacture the freezer based on different frozen food conditions and customer requirements.
The production capacity ranges between 200kg/h to2000kg/h.
The width of the conveyor belt ranges between 1500mm to 2000 mm.
We make customized infeed and outfeed conveyor upon customers' requirements.
Fully welded enclosure structure is optional.
The CIP automatic cleaning system can be chosen to efficiently clean the inside of the freezer and reduce downtime.
The ADF air defrost system is suitable for continuous defrosting, thus allowing the freezer to work continuously.
Founded in 1986, Square Technology Group Co. is a dedicated manufacturer engaged in the development, production, and sales of cold chain systems. We provide customers with outstanding refrigeration solutions and quick-freezing food processing systems for those handling agricultural products, seafood, baked goods, and pre-prepared foods. Through more than three decades of development, we have established long-term cooperative relationships with a number of leading food producers, including QL Group, Read Chamber, Morpol, Tyson, CP, Hormel, Cargill, Tingyi, Sunner, Zhouheiya,Juewei, and Anjoy.