Solid Band Tunnel Freezer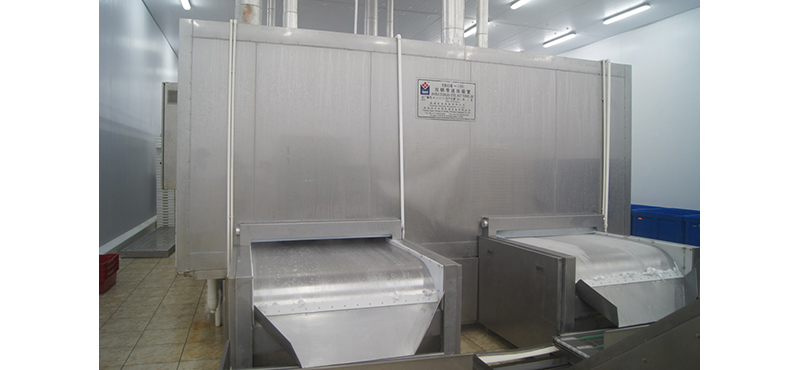 The tunnel freezer is primarily used to freeze flat food products, such as fish fillets, peeled shrimps, squids, dumplings, etc. The tunnel freezer is equipped with a hygienic and highly effective evaporator, which uses the newest liquid supply method, allowing for higher heat exchange efficiency than traditional method by 20%.
Parameters
| | |
| --- | --- |
| Items | Parameters |
| Type | SBD2-500 |
| Dimension | 18000×2500×2720mm |
| Frozen products | Dumplings |
| Capacity | 500KG/h |
| Infeed temperature | +25℃ |
| Outfeed temperature | -18℃ |
| Refrigeration consumption | 80KW |
| Refrigerant | R22 |
| Freezing time | 4-40min |
| Infeed conveyor length | 2200mm |
| Belt width | 1200mm |
| Installed power | 18KW |
Notes: These parameters are subject to change based on different products and processes.
Recommended Applications
Features
The double-drive device is used at both ends of the infeed and outfeed in order to effectively prevent the conveyor belt from slipping.
We use the cold storage insulated panel production line to manufacture the panel. The material selection is of the best possible quality, so that we can guarantee the high quality and outstanding performance of the freezing equipment.
The tunnel freezer is equipped with an intelligent central control system and automatic detection device which are both easy for users to operate and maintain.
Custom Range
We can design and manufacture the tunnel freezer according to different frozen food conditions and customer requests.
The production capacity ranges between 300kg/h and 700kg/h.
The stainless steel belt has a width of 1200mm.
The infeed and outfeed conveyor can be chosen according to customer's requirements.
Founded in 1986, Square Technology Group Co. is a dedicated manufacturer engaged in the development, production, and sales of cold chain systems. We provide customers with outstanding refrigeration solutions and quick-freezing food processing systems for those handling agricultural products, seafood, baked goods, and pre-prepared foods. Through more than three decades of development, we have established long-term cooperative relationships with a number of leading food producers, including QL Group, Read Chamber, Morpol, Tyson, CP, Hormel, Cargill, Tingyi, Sunner, Zhouheiya,Juewei, and Anjoy.