Spiral Cooler and Conveyor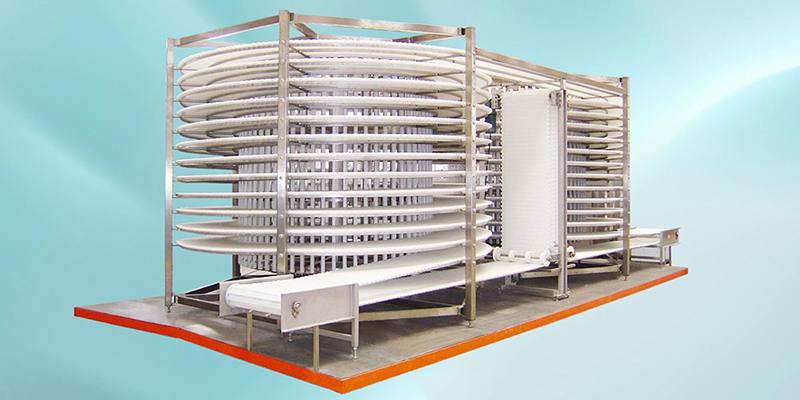 The spiral cooler and conveyor apply to the natural cooling of unpackaged food, which is usually used to cool off the foods from higher temperature to the room temperature. This is commonly done with bread which is freshly baked, hot cakes, egg-tarts, hamburgers, and fried foods.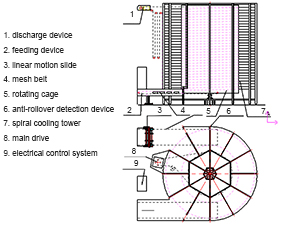 1. Discharge device
2. Feeding device
3. Tension device of mesh conveyor belt
4. Linear motion slide
5. Mesh belt
6. Rotating drum
7. Anti-rollover detection device
8. Spiral cooling tower
9. Main drive
10. Electrical control system
The spiral cooler and conveyor fall into two types: single tower and double tower. The single tower structure can be divided into 2 types: low infeed, high outfeed, high infeed and low outfeed, the double tower structure can be divided into low infeed and low outfeed. The spiral cooler and conveyor can be easily paired with other processes of the custom tailored shop.
Parameters
| | |
| --- | --- |
| Items | Parameters |
| Model | DL3710530.5 |
| Layout Dimension | 7910×6220×6735mm |
| Products | Hamburger buns |
| Output | 1800kg/h |
| Infeed temperature | / |
| Outfeed temperature | Room temperature(+20℃-25℃) |
| Refrigeration consumption | / |
| Refrigerant | / |
| Dwell time | 20-100min |
| Spiral layers | 30.5 layers×1 |
| Drum diameter | 3780mm |
| Mesh belt width | 1050mm |
| Mesh belt length | 612m |
| Effective layer pitch | 110mm |
| Installed power | 21KW |
Notes: The above parameters are set based on freezing of 5000 dozens of hamburger buns per hour. These parameters are subject to change according to different products and freezing requirements.
Recommended Applications
Features
The spiral cooler and conveyor can be optionally equipped with food-grade stainless steel mesh belt or plastic modular belt according to different needs of customers to keep the device clean.
The all stainless steel manufactured drum adopts a segmented structure, which is very convenient to overhaul and change the upper and lower bearings, and the connection parts of the structural components are all welded to make sure that there is are no dead angles within that could make cleaning difficult.
The main driving set uses drive and control technology from Europe, and the stainless steel large sprocket at the lower parts of the drum nearly has the same diameters with the drum, which reduces the tension of the driving chain in the main driving set, and make the drum run more smoothly and more reliable.
In the electrical aspects, the intelligent remote controlling system is optional to be equipped with to make sure that the clients can know the running conditions of the equipment at any time. This ensures that the customer controls the operation of the equipment at all times; the switch box is made of stainless steel (according to America NEMA12 standard) ,and has a good protection grade.
The mesh belt running uses frequency converter power source control, and the speed of the mesh belt is continuously adjustable. The mesh belt running safety detection device uses no-touch approach switch and has reliable performance.
Custom Range
We can design and manufacture the non-standard product according to different conditions of the frozen food and customer requests.
The production capacity can be selected from 200kg/h to 5000kg/h (depending on the situation).
The drum diameter can be chosen from 1200mm to 4550mm.
The conveyor belt width can be chosen from 400~1372mm (16~54 inches).
Infeed and outfeed conveyors can be selected according to customer requirements (low infeed and high outfeed, high infeed and low outfeed, low infeed and low outfeed).
The specifications and direction of the spiral cooler and conveyor can be selected according to customer requirements and site restrictions.
Founded in 1986, Square Technology Group Co. is a dedicated manufacturer engaged in the development, production, and sales of cold chain systems. We provide customers with outstanding refrigeration solutions and quick-freezing food processing systems for those handling agricultural products, seafood, baked goods, and pre-prepared foods. Through more than three decades of development, we have established long-term cooperative relationships with a number of leading food producers, including QL Group, Read Chamber, Morpol, Tyson, CP, Hormel, Cargill, Tingyi, Sunner, Zhouheiya,Juewei, and Anjoy.